The History of the Shimla is very exciting. It is located on the lower Himalayas. Shimla is at an elevation of about 7500 feet above sea level. Shimla is bounded by Mandi and Kullu in the north, Kinnaur in the east, the state ofUttrakhand in the south, Sirmaur, district in the west. The topology of the district is rocky and hard. The word 'Shimla' is derived from "Shayamla Devi", which is the other name of Goddess Kali.
The British Empire may have ceased to exist, but its echoes linger on in Shimla (2130m). As the 'summer capital' of the British in India. Shimla was once part of the Nepalese kingdom and called Shyamala. In 1864 Shimla became the summer capital of India. Following independence, Shimla was initially the capital of the Punjab, and then became the capital of Himachal Pardesh in 1966. Today, Shimla is a pleasant, sprawling town, set among cool pine-clad hills with plenty of crumbling colonial charm. High season is mid-April to mid-July, mid-September to late October and mid-December to mid-January. The best time to visit is mid-September to late November.
History of Shimla goes back to the period of Anglo-Gurkha war in the start of 19th century. In 1804 the Gurkhas, who had undergo a harsh beat at the hands of the Sikhs at the battle of Kangra, a hill stronghold about sixty miles from Shimla, where according to some accounts they gone thousand of men in the fight and many others from disease, commenced to damage the states and hills surrounding Shimla. Gurkhas built many forts around Shimla. Shimla holds interest exclusively for visitors from England who trip Shimla to visit the churches and cemeteries for information about their grandparents who served here during the British rule in India.
About Shimla Chruch
The famous Christ church & St. Michael's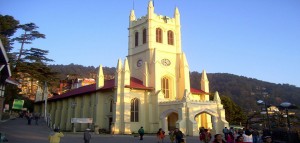 Cathedral of Shimla is a beautiful architectural masterpiece. The construction of this church took a span of 11 years (1846 – 1857) and is considered to be the second oldest church in North India. This splendid church is located just near the Ridge in Shimla and can be reached very easily from anywhere. The Christ Church & St. Michael's Cathedral is a famous landmark of Simla and is flocked by many devout followers from all over India.
The church looks absolutely magical during night when lights placed at strategic corners illuminate this beautiful church. The church glows with all its beauty and grandeur and is an amazing sight to look at. Beautifully painted stained glass form the windows of this magnificent church. It is a grand sight to look at and definitely worth the visit if you are traveling to Shimla. Right next to the Church is a library that was built in the year 1910 by James Ransome. It is designed in the typical Elizabethan style and consists of a great collection of books and ancient scriptures.