History Of Bathinda City
|
Bathinda is one of the oldest towns in the state of Punjab and has many historical associations. There is an ancient "Fort" in Bathinda, which is believed to have been in existence for the last 1800 year. It is believed that Rao Bhatti, son of Bal Band who became ruler of Punjab in 336 Bikrami Sambat established the modern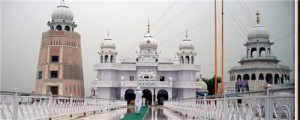 town of Bathinda in Lakhi Jungle area in the third century and the city was captured from him by Sur Brars. Bala Rao Bhatti inhabited the city in 965 AD naming it Bhatinda after his surname. The city also remained the capital of Raja Jaipal. It was also called "Whatinda" and "Bitunda" which finally came to be known as Bathinda on authority of Survey of India to conform to the phonetical expression locally pronounced. In the year of 1000 Mahmud Gazni besieged the Bathinda Fort which fell in his way from North West to the rich Ganges Plains. Later Mohammad Gori attacked and captured the Fort of Bathinda in 1189, but Prithavi Raj Chauhan the ruler of this region managed to recover the possession of the fort thirteen months later in 1191. The fort is also associated with the first woman ruler of India "Razia Sultana" who ruled India during 1236-1240. Razia Sultana was imprisoned in the Fort in 1240. Tenth Guru of Sikhs, Guru Gobind Singh visited the town in 1705 on his way to Talwandi Sabo (Damdama Sahib) after battles of Muktsar. Guru Ji stayed in the fort for some days. With the formation of Patiala and East Punjab States Union (PEPSU) on May 5, 1948, Bathinda district came into existence on August 20, 1948. Its headquarters were originally at Faridkot which were shifted to Bathinda in 1953.
The 1400 year old Qila Mubarak or otherwise known as Bathinda Fort is centrally located in the city of Bathinda. This fort had once been a residence of Sri Guru Gobind Singh Ji and was the place where Empress Razia Sultana was imprisoned after being defeated and dethroned.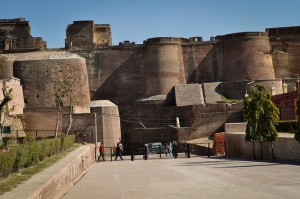 The fort's bricks dats back to the era of Kushanas, when Bactria or North India was ruled by Emperor Kanishka. This fort is known to have been built by Raja Dab together with Kanishka. Inside this fort there is a Gurudwara.